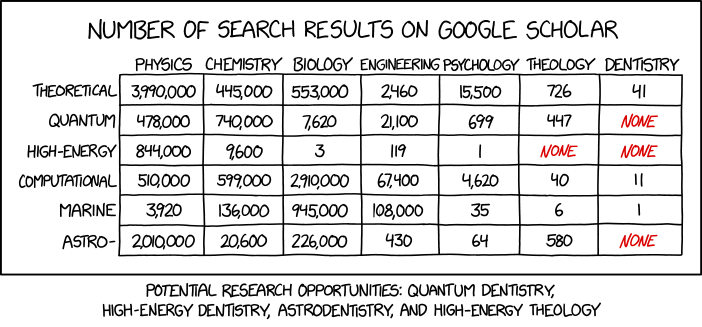 Title text:
Massage: Theoretical (10), Quantum (6), High-energy (2), Computational (1), Marine (1), Astro- (None)
Isn't all theology theoretical?
Site Admin
Posts: 93
Joined: Wed Aug 18, 2021 12:47 am
I want to see what "quantum dentistry" would entail.
If I disappear from the forum, I can still be reached via the "
contact us
" link at the bottom of the page.
I am not surprised that there are thousands of papers on High Energy Psychology. I mean come the only papers you need for Psychology are for doodling on. Conversely I am slightly concerned by the dearth of papers on High Energy Engineering. I honestly think that it is an actual thing and now I find out no one is studying it.
There's only one, according to the comic.